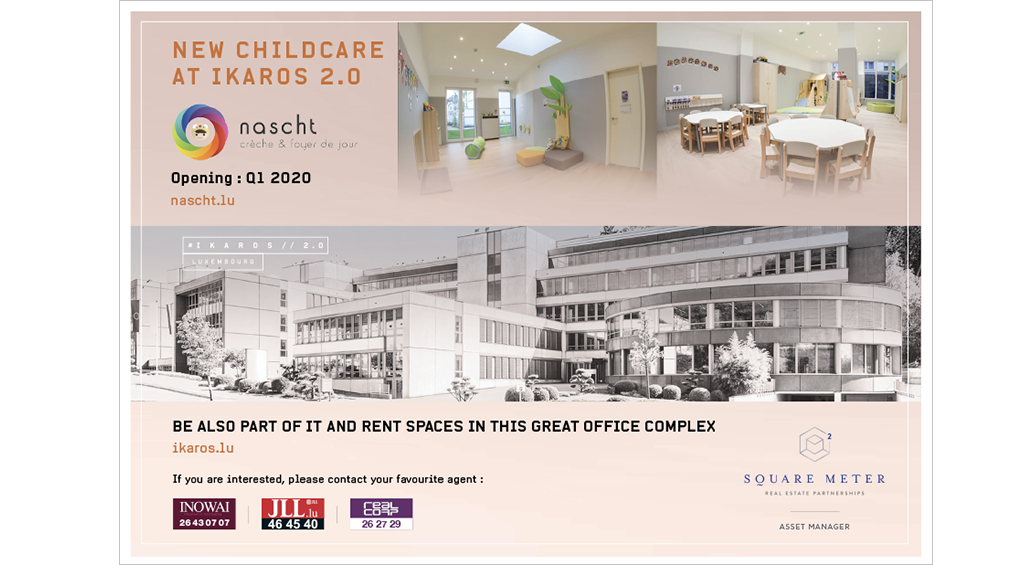 23/09/19

New childcare at Ikaros 2.0
The first tenants arrive at the office complex IKAROS 2.0
The office complex IKAROS 2.0 is now ready to enter its second lifecycle : SQUARE METER is really happy to welcome the first tenants who have chosen this great office complex to run their businesses successfully.
Amongst these first tenants you will find the childcare NASCHT.
About the childcare NASCHT
The Nascht Group, which provides care for children from 2 months to 12 years within childcare and day care centres, will take over an area of 550 m² in the building Apollo to open a new childcare.
The Nascht Group has been active in Luxembourg since 2012 and pursues its own vision of a pedagogy and professional supervision while paying great attention to the well-being of each child.
It is the 11th location of this type opened by the Nascht Group in Luxembourg. Located at the back of the building, the well-equipped space is quiet and gives direct access to a large private playground. The childcare in the IKAROS 2.0 can welcome up to 70 children. The opening is foreseen in the first quarter of 2020.
About IKAROS 2.0
The office complex IKAROS 2.0 consists of two buildings Artemis and Apollo, which provide together approx. 25,000 m² of office space, approx. 5,000 m² of archives and approx. 800 interior parking spaces.
The complex is made up of 5 upper and 4 basement floors. The three bright entrance areas of both buildings are accessible from rue de Neudorf. Each entrance has a different address.
Due to the high flexibility of premises, companies of all sizes can be accommodated as the floors are divisible from 200 m².
In addition to the office spaces, the street levels of both blocks are linked by a staircase and provide shops and services to the tenants as well as outside visitors. The idea was to create an environment in the style of a mini-galleria offering a restaurant, a sandwich shop with coffee bar, a child care, a concierge service, a fitness centre, a cash-dispenser, a small supermarket, a hairdresser, etc..
The office complex benefits from high quality technical equipment and complies with the latest standards. It provides flexible, efficient and comfortable surfaces for occupants. The offices are equipped with modern technical equipment such as cooled ceilings, raised floors, ventilation and external blinds. Steps to obtain a BREEAM certification are ongoing.