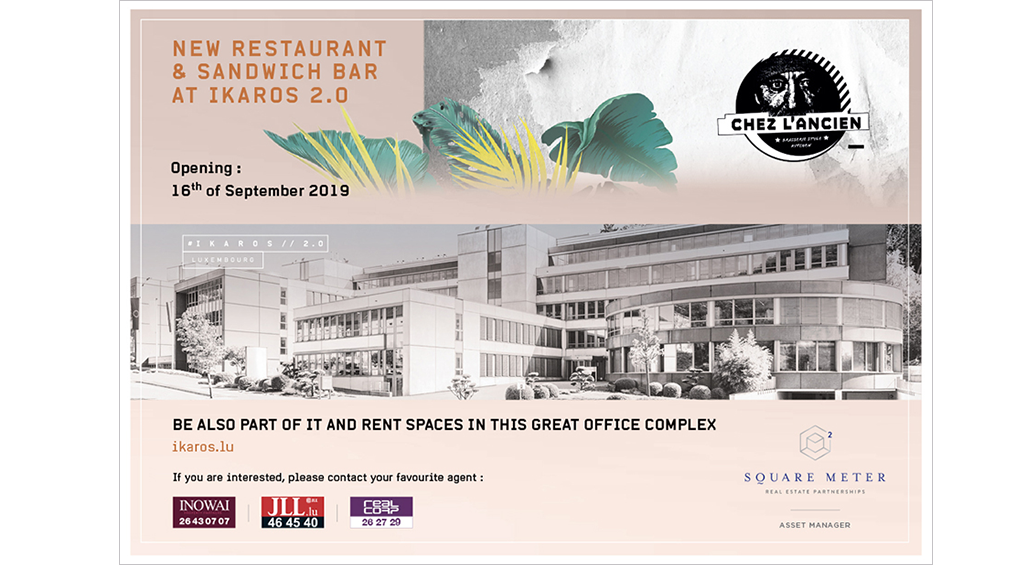 09/09/19

New restaurant & sandwich bar at Ikaros 2.0
The first tenants arrive at the office complex IKAROS 2.0
The office complex IKAROS 2.0 is now ready to enter its second lifecycle : SQUARE METER is really happy to welcome the first tenants who have chosen this great office complex to run their businesses successfully.
Amongst these first tenants you will find the Brasserie CHEZ L'ANCIEN.
About the Brasserie CHEZ l'ANCIEN
The Brasserie CHEZ L'ANCIEN belongs to an International Group that has been active in Luxembourg since 2005 and will take over the restaurant area with a size of 1,000 m² in the building Artemis.
The concept of CHEZ l'ANCIEN is committed to deliver a lunch experience of freshly cooked appetizing food with a hybrid service. Visitors will have the choice between a self-served starter and a daily menu served rapidly at the best market price.
The restaurant will open on the 16th of September 2019 and will be accessible to the tenants of IKAROS 2.0 as well as to external visitors.
To round off the offer, CHEZ L'ANCIEN will also open a sandwich bar. It will be located in the building Apollo on a ground floor area of approximately 300 m² and will provide customers with tasteful coffee, sandwiches, salads and other take-away formulas throughout the day. The opening of the sandwich bar is planned at the end of 2019.
About IKAROS 2.0
The office complex IKAROS 2.0 consists of two buildings Artemis and Apollo, which provide together approx. 25,000 m² of office space, approx. 5,000 m² of archives and approx. 800 interior parking spaces.
The complex is made up of 5 upper and 4 basement floors. The three bright entrance areas of both buildings are accessible from rue de Neudorf. Each entrance has a different address.
Due to the high flexibility of the premises, companies of all sizes can be accommodated as the floors are divisible from 200 m².
In addition to the office spaces, the street levels of both blocks are linked by a staircase and provide shops and services to the tenants as well as outside visitors. The idea was to create an environment in the style of a mini-galleria offering a restaurant, a sandwich shop with coffee bar, a child care, a concierge service, a fitness centre, a cash-dispenser, a small supermarket, a hairdresser, etc..
The office complex benefits from high quality technical equipment and complies with the latest standards. It provides flexible, efficient and comfortable surfaces for occupants. The offices are equipped with modern technical equipment such as cooled ceilings, raised floors, ventilation and external blinds. Steps to obtain a BREEAM certification are ongoing.